Current events concerning politics, political office holders, political candidates, world events, local events, crime and other public affairs issues are discussed. This blog leans right (conservative), but views left of center (liberal, progressive) will also appear. This blog is not a mouthpiece of the Republican party. Democrat and other perspectives also appear. Discussion including diverse viewpoints is encouraged, but keep it clean. Abusive language may result in deletion.
Wednesday, December 31, 2014
OVERLAND PARK, Kan. —
Overland Park police are working the scene of a homicide Wednesday morning.
Police say the shooting happened near the intersection of 83rd and England. Police arrived on the scene to find a man shot to death in the middle of Kessler Street. That man has now been identified as 49-year-old Overland Park resident Steven Sawyer. Police believe he was outside warming up his car when he was shot.
Homicide reported in Overland Park | Local News - KMBC Home
Tuesday, December 30, 2014
A 2-year-old boy accidentally shot and killed his mother after he reached into her purse at a northern Idaho Wal-Mart and her concealed gun fired, authorities said Tuesday.
Kootenai County sheriff's spokesman Stu Miller told The Associated Press the woman was shopping with her son and three other children. Her family had come to the area to visit relatives, he said.
Woman accidentally shot and killed by 2-year-old in Walmart | Fox News
Five years ago, on a cold, gloomy December afternoon in the mountainous region of Khowst Province in southeastern Afghanistan, an al-Qa`ida terrorist detonated a bomb strapped to his chest and killed seven CIA officers and injured six others; one of the deadliest attacks ever conducted against Agency personnel.
The suicide bomber had been recruited as a CIA informant and taken to Afghanistan to infiltrate the upper ranks of al-Qa`ida. For months, he provided the Agency with independently verifiable intelligence on the terrorist network, and he promised to lead the CIA to the group's most senior members. Instead, the asset was an al-Qa`ida double agent.
Khowst – 5 Years Later — Central Intelligence Agency
December 30, 2006--Former Iraqi leader Saddam Hussein was hanged.
Little did we know how much worse things would get after Saddam was gone!
December 30, 2014
I am President Barack Obama's college classmate from Columbia University, Class of '83. Back in 1981 when my Columbia classmates heard my hero President Ronald Reagan had been shot, they erupted in joy. They celebrated by jumping up and down, cheering, hugging, and giving each other high-fives. They screamed, "YES! Reagan is dead. They got the bastard!" I witnessed it all, first-hand. My radical leftist classmates thought a conservative legend was dead and this was cause for celebration. I remember thinking, "they are celebrating like it's New Year's Eve." Afterall that's what you do on New Year's- celebrate!
Let's Celebrate President Obama on New Year's! | TheBlaze.com
December 30, 2014
Many Americans are familiar with the controversy surrounding the Common Core educational standards, which some say are
convoluted
,
political
and prevent parents from being involved in their children's education.
But fewer know that at least one of the three men who wrote the mathematics portion of Common Core, William McCallum, admits there are problems with the standards. Phil Daro and Jason Zimba — McCallum's co-writers — see ways they could be improved, too.
One of the People Behind Common Core Admits There Are Issues With the Program | TheBlaze.com
The federal government is cracking down on nonprofit hospitals under ObamaCare in an attempt to prevent harsh collection practices and steep charges for the uninsured.
Newly finalized regulations from the Internal Revenue Service, announced
Monday
, will require nonprofit hospitals to "take an active role in improving the health of the communities" by making payment methods more fair and making costs more transparent.
New IRS rules crack down on nonprofit hospitals | TheHill
Embattled Rep. Michael Grimm (R-N.Y.) will resign from Congress after pleading guilty to felony tax evasion, setting in motion a competitive House special election to replace him.
Grimm will resign from Congress | TheHill
House Majority Whip Steve Scalise (R-La.) spoke at a white supremacist group's event in 2002 while he served as a state representative, an unwelcome bit of news for Republicans preparing for the new Congress.
Scalise acknowledged speaking to the group created by former Ku Klux Klan leader David Duke, but said it was "insulting and ludicrous" to think he shared the group's views.
No. 3 House Republican leader spoke to white supremacist group | TheHill
The Pentagon is planning another push to whittle down benefits for troops when it submits its 2016 budget to the White House in February, over fierce opposition from military groups and some in Congress,
Pentagon meets resistance on benefit cuts | TheHill
Iran's Supreme Leader Ayatollah Ali Khamenei is using the controversy in Ferguson to blast the U.S. on issues ranging from "crimes" against Iran to the historical oppression of Native Americans and colonialism, using the hashtags #BlackLivesMatter and #NativeLivesMatter.
In a series of tweets over the past few days, Khamenei invoked the 1890 Wounded Knee massacre in which at least 150 Native Americans were killed by U.S. troops in order to make his point that Western culture is "aggressive."
The #BlackLivesMatter Campaign Just Got an Unlikely Supporter | TheBlaze.com
Bodies and debris have been found off Indonesia's coast, in the area where AirAsia Flight 8501 disappeared on Sunday with 162 people on board. Warning: Some may find these pictures disturbing. (Dec. 30)
Video (0:47)
Raw: Bodies Found in Indonesian Waters - YouTube
FBI Philadelphia Division Press Release:
Serial Bank Robber Hits Eighth Bank Today

FBI Philadelphia

December 29, 2014
The FBI, Philadelphia Police Department, Cheltenham Township Police Department, and Lower Merion Township Police Department are seeking the public's assistance to identify and locate the subject believed to be responsible for six bank robberies and two attempted robberies in the Philadelphia area over the past three weeks.
The latest incident occurred at approximately 10:35 this morning at the Wells Fargo Bank branch located at 1200 East Lancaster Avenue in Bryn Mawr, Pennsylvania.
The same subject is believed also to be responsible for the following robberies:
December 26, 2014—PNC Bank, 101 South Easton Road, Glenside, Pennsylvania
December 26, 2014—Wells Fargo Bank, 1575 North 52nd Street, Philadelphia (attempted robbery)
December 23, 2014—PNC Bank, 5900 North Broad Street, Philadelphia
December 22, 2014—Prudential Savings Bank, 1722 South Broad Street, Philadelphia
December 18, 2014—Valley Green Bank, 7226 Germantown Avenue, Philadelphia
December 15, 2014—PNC Bank, 230 South Broad Street, Philadelphia
December 11, 2014—Beneficial Bank, 1600 Chestnut Street, Philadelphia (attempted robbery)
On each occasion, the subject entered the bank and handed a teller a threatening demand note. After obtaining cash, the subject fled the area of the bank on foot. There have been no physical injuries as a result of any of these robberies, and no weapons have been displayed or used.
The subject is described as a black male in his 30s, approximately 5'10" tall, medium build, medium complexion, with eyeglasses. In one of the robberies, the subject was not wearing the glasses.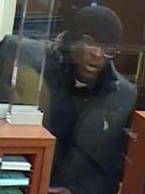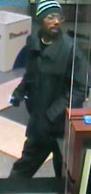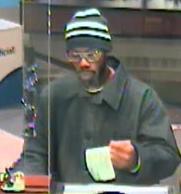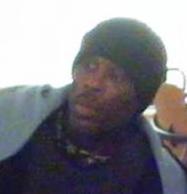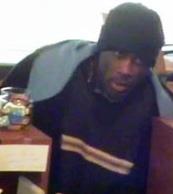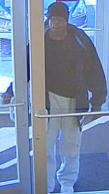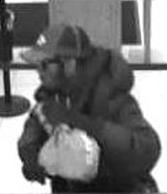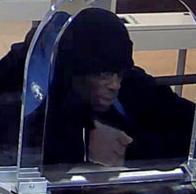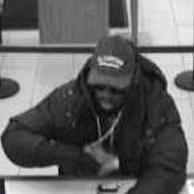 This subject is considered armed and dangerous. Anyone with information about these robberies or this subject is urged to call the FBI at 215-418-4000 or the Philadelphia Police Department. There may be a reward for information leading to this subject's capture; tipsters can remain anonymous.
FBI Miami Division Press Release:
FBI Releases Photographs of a Bank Robbery

FBI Miami

December 29, 2014
The FBI is releasing photographs from a bank robbery that took place on December 26, 2014, at approximately 10:40 a.m. at the One United Bank branch located at 3275 NW 79 St. in Miami, Florida.
A robber entered the bank and demanded money from a bank employee. Customers were in the bank at the time, there were no injuries. Money was taken, but the amount will not be released at this time.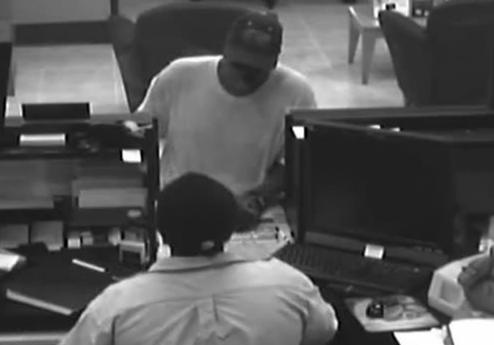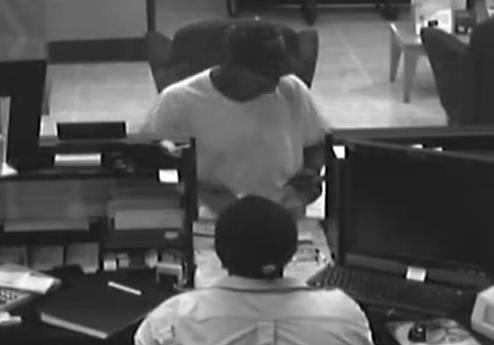 Anyone who has information as to the identity of this bank robber is urged to call the FBI at (305) 944-9101 or Crimestoppers.
FBI Birmingham Division Press Release:
Federal Grand Jury Indicts Huntsville Police Officer on Bribery Charges

U.S. Attorney's Office

December 29, 2014
BIRMINGHAM—A federal grand jury today indicted a Huntsville police officer in connection with a conspiracy to fix cocaine trafficking charges against an individual arrested by another Huntsville officer, announced U.S. Attorney Joyce White Vance, FBI Special Agent in Charge Richard D. Schwein Jr. and Huntsville Police Chief Lewis Morris.
A four-count indictment filed in U.S. District Court charges LEWIS BERNARD HALL, 45, of Meridianville, Ala., with conspiracy, bribery, obstruction of justice and making a false statement to investigators. According to the charges, Hall conspired with someone identified in the indictment as "Individual B" to pay a fellow police officer $5,000 if that officer would claim his July 29 vehicle search that resulted in drug-trafficking charges against "Individual A" was unlawful, thereby making the criminal case against Individual A go away. The Huntsville officer who conducted the vehicle search and, subsequently, assisted in the investigation of Hall is identified in the indictment as "Cooperating Officer."
"Our community expects and deserves police officers who will protect citizens and uphold the law, not tarnish their badge and work to protect criminals," Vance said. "The U.S. Attorney's Office prosecutes public corruption cases to punish those who violate the law and the public trust and to reinforce the need and expectation of integrity in government and police service."
"Public corruption is the FBI's number one criminal priority for a reason," Schwein said. "It tears at the fabric of our democracy and works to undermine the public's trust and confidence in the government. The FBI will continue to aggressively investigate violations of that trust committed by any public official, regardless of position."
"The Huntsville Police Department contacted the FBI as soon as we learned of possible corruption and we assisted the FBI in its investigation," Morris said. "I want to assure the public that this indictment addresses the actions of one police officer, and the Huntsville department will diligently address any other issues that might come to our attention. We value the working relationship we enjoy with the FBI and the U.S. Attorney's Office and appreciate their attention to this case."
According to the indictment's conspiracy count, on July 31, Hall and Individual B discussed offering the Cooperating Officer a bribe to tell other law enforcement officers that his search of Individual A's vehicle, which uncovered about three ounces of cocaine, was unlawful. Hall offered the bribe to the Cooperating Officer on July 31, paid him $1,000 on Aug. 12, and had two follow-up conversations in November about what the officer was supposed to say when asked about the search of Individual A's vehicle, the indictment says.
The bribery count charges Hall with corruptly offering the bribe to an agent of the City of Huntsville and its police department, which received more than $10,000 in federal benefits within one year, to influence the Cooperating Officer in how he reported the July 29 vehicle search.
The obstruction of justice count charges Hall with offering the bribe with the intent to delay or prevent the reporting of a felony or possible felony offense and the violation of conditions of supervised release by Individual A.
The false statement count charges Hall with knowingly making a false statement to an FBI agent on Dec. 8, saying he did not give money to the Cooperating Officer in connection with that officer's reporting of his search of Individual A's vehicle.
The maximum penalty for both the conspiracy and the false statement charges is five years in prison and a $250,000 fine. The maximum penalty for the bribery count is 10 years in prison and a $250,000 fine, and the maximum for the obstruction count is 20 years in prison and a $250,000.
The FBI investigated the case in conjunction with the Huntsville Police Department. Assistant U.S. Attorney George A. Martin Jr. is prosecuting the case.
Monday, December 29, 2014