As I toured the border in the Rio Grande Valley and met with border officials this past week, one thing remained clear – we must secure the border.
This week I introduced legislation that would stop Obama's Amnesty, reform existing human trafficking laws, and also give Texas leaders more tools to protect our state.
Please keep reading for a further update on the latest in the Senate.
All the best,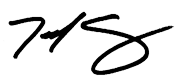 Ted Cruz
The News with Sen. Cruz - July 25, 2014 | Ted Cruz | U.S. Senator for Texas